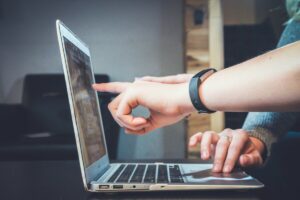 A study by the American National Institute of Ageing of more than 18,000 adults found that people who used the internet regularly had about half the risk of dementia as people who were not regular users.
And researchers at University College London (UCL) found that using the internet improves the mental health and life satisfaction of older people, especially those with good levels of education, and it would also benefit a less educated group who used the internet infrequently, who scored higher for depression and lower for life satisfaction.
Published in the Journal of Medical Internet Research, the UCL study was the first to examine the links between different internet usage and the impacts on mental health. Researchers included more than 9,000 people aged 50-plus over a period of six years (2012 – 2017), using scores for life satisfaction and levels of depression.  Daily users experienced larger increases in life satisfaction scores than those who used the internet weekly or never, and had the highest scores overall by the end of the study.  They also saw a difference depending on the reason:  those who were keeping in touch with others had more life satisfaction, while those using it for 'information access' only, specifically searching for jobs (including those already in work) had worse life satisfaction.  A bit obvious really because we know that interacting with others produces good feelings, while searching for a job usually means you don't like the one you already have or don't have one!
The American research tracked 18,154 adults between the ages of 50 and 65 who did not have dementia at the start of the study. Study co-author, Dr Virginia Chang, an associate professor of global public health at New York University's School of Global Public Health said that online engagement may help to develop and maintain cognitive reserve, which can in turn compensate for brain aging and reduce the risk of dementia. Read more here: https://edition.cnn.com/2023/05/03/health/internet-use-dementia-risk-wellness/index.html
In the UK, 25 percent of people aged 65 and over don't use the internet – that's a lot of people!  They are put at great disadvantage as more and more every-day interactions are taking place over the internet.  An example is the fast-growing move to online banking, as local branches with the personal touch disappear.  Our CEO, Stephen Hammersley, has spoken about this in a radio interview ( https://youtu.be/NX-UB7-ujmk ).
'It's easy to assume that everyone is online and has the digital skills to use public services,' comments an article on 'Gap analysis' in The Times, That's not the case.' (Sally Whittle, May 18, 2023)
Today's older generation has adapted to more innovation in its time than any other before it, and many are already winging their way around the world wide web. But others need help, as Stephen mentioned, especially those living on their own. They also need to be enthused about the possibilities!  Some time ago while waiting for the contract for my mobile phone to be printed out,  an elderly father, his son and grandson come into the store.  They explained to the Manager that they were looking for a phone or tablet for granddad so he could speak to friends and families in other countries. Granddad smiled widely when he heard that he could also read his favourite newspaper on it. He could see the benefits, and was well supported by his son and grandson.
As even ordering a new dustbin these days means going online, it's a great opportunity for churches to help not just those in their fellowship, but others in the community.  Not every older person has grandchildren!  Perhaps advertise a special session in the weekly 'Connect' group, put a notice in the local supermarket… there are many ways.