Grandmas and Grandpas – take cover. You are a danger to the global economy.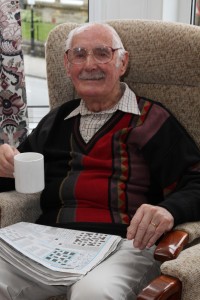 Doris and Dave, Elsie and Eddie, Marje and Malcolm, the economists and accountants who run the world (sadly) are sniping at you … again.
You may have worked hard all your life, paid your national insurance and pension contributions, raised a family, and even defended your country in war. You contributed to the economy all the days of your adult life, sometimes sticking to a job you didn't like because that's what your generation did, to bring home the bacon. 'Job satisfaction' had nothing to do with it: it was all about seeing that your family was OK and that your children had a good future. And Christians tithed and gave money to their churches, so they could benefit the wider community.
Even right now, you may be one of the thousands of older people keeping charities going; supporting local community activities, contributing sacrificially to the wellbeing of your adult children, often caring for the grandchildren, but the fact is that now you are being seen as a danger to the economy, according to an article in the 'City A.M' (what's that, you might well ask?). It has been written by a young faced Tim Wallace, who looks hardly old enough for the scrubby beard he sports. But Tim is a bright boy: he covers banking, regulation and the Eurozone.
The article says that over the next ten years, global economic growth will be dragged down sharply by ageing populations. We know it's true because it's what the analysts at US credit ratings agency Moody's are saying. Britain will be one of the countries hit hardest, as our population is unusually old. In fact, the so-called super-aged countries, with more than 20 per cent of the population over 65 years old, will be hit hardest.
http://www.cityam.com/1407374677/it-s-old-story-ageing-uk-population-threatens-economy
Older populations mean that there will be fewer people in work.  We'll all be there, indulgently spending our savings in retirement  instead of earning and spending at the same time.
Well I never… F W Taylor's scientific management theory, where people are units of production, is alive and well. Step off the production line and you put the whole world in danger.
It's not the way God sees it.
Psalm 2:4 says, 'He who sits in the heavens laughs; the Lord holds them in derision.' He's not speaking directly to the analysts at Moody's, of course, but to people who are ignorant of His plans. Because old age is part of His grand design. It didn't come about by accident.  God's view of old age is that it is a precious time. It's viewed by God as a blessing, for individuals and those around them.
'Grey hair is a crown of splendour; it is attained by a righteous life." (Proverbs 16:31NIV). And, 'the righteous will flourish like a palm tree, they will grow like a cedar of Lebanon; planted in the house of the LORD, they will flourish in the courts of our God. They will still bear fruit in old age, they will stay fresh and green, proclaiming, "The LORD is upright; He is my Rock, and there is no wickedness in him.' Psalm 92:12-15.
It's to be a time of fruitfulness and harvest (Galatians 5:22), displaying God's goodness (Psalm 4:18). It is a time for sharing for sharing experience (Psalm 78:4).
God places His imprimatur on older people. ''You shall rise up before the grey headed and honour the aged, and you shall revere your God;' He says, adding His royal seal: 'I am the LORD.' (Leviticus 19:32).
Moody's analysts project the financial future, seeking to promote monetary growth. God puts it the other way around. 'But seek first the kingdom of God, and His righteousness; and all these things shall be added to you.' Matthew 6:33.