There's a story in today's Times about a son who discovered in the nick of time that his 82-year-old parents were about to hand over £thousands to a rogue tradesman.  They stopped it, but the son was dismayed to learn that without his intervention the bank would have gone ahead and completed the transaction.
He was doubly dismayed because the bank,(RBS) knew his parents had been victims of a £275,000 shares scam a few years before.
The son thinks that the bank should have investigated the current deal before allowing the payment, and to an extent, this is what the bank says it would have done.  But the bank's default position is that they will transfer money on a customer's instructions.
A friend of mine has a job with a complicated title that I can't remember, but put simply it means he gauges global credit risk and a lot of it has to do with computers and mathematical patterns.  I imagine it involves sophisticated algorithms, and clever stuff like that.   I know that if I forget to tell the Bank that I'm going overseas I can't use my card at an ATM without calling them first.
Both these transactions were out of kilter with the patterns of the parents' regular behaviour, as their usual transactions were small, and the bank would have known that they were both in their 80s.  The bank said that they'd checked with their customer and made sure that they wanted to transfer the money, and had received instructions in writing and over the phone.
Part of the problem may be that there are so many transfers these days – 70 million a month, compared with just over 8 million a month ten years ago. And we know that scamming older people is on the rise, as criminals see them as an easy target.
So how to protect them?   The consumer group Which has urged the financial regulator to make banks give customers better protection from scammers.  Which has advice on its website at which.co.uk/consumer-rights/scams.
Age UK has also called for banks to safeguard elderly people by spotting suspicious activity on their accounts, such as large or unusual payments to unfamiliar recipients.  Director Caroline Abrahams says banks are failing in their duty by not protecting them.
HSBC has produced a very good guide, 'Managing Your Money with Dementia', which can be downloaded from
https://www.hsbc.co.uk/1/PA_esf-ca-app-content/content/pws/content/personal/pdfs/managing-your-money-with-dementia.pdf.
The Alzheimer's Society also has a guide, but the HSBC leaflet is more comprehensive, particularly mentioning fraud and organisations that will help.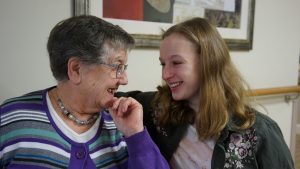 But the best protection is a good relationship with family or friends.  Things like the tradesman's big bill would come up naturally in conversation, as would the golden opportunity the shares' scam would have offered.
A three-fold cord is not easily broken, as the NLT Bible puts it, 'A person standing alone can be attacked and defeated, but two can stand back-to-back and conquer. Three are even better, for a triple-braided cord is not easily broken.'  Ecclesiastes 4:12