'Hold on Mother!' was the headline over a letter in The Times recently.  The letter was a response to a letter written by her mother published in the paper the day before.  In the letter the mother, 81, said that should she become ill with Covid she would be happy for give up a ventilator to a younger person.  The daughter replied that although Living Wills and sensible decisions were a good thing her mother should abandon the notion straightaway because 'she still tutors maths, runs her Residents' Association, provides emergency care for dogs and grandchildren and bakes the best Christmas cakes.' She ends by saying that the over 80s have become very noble in the face of the coronavirus, underestimating their value to society. 'We are not protecting them just out of love,' she concludes, 'we need them.'
Psychiatrist Max Pemberton agrees. In his column in a national newspaper he mentions the prospects of them being able to meet up with selected family members in 'bubbles'. After struggling with not being able to see their loved ones for months, he implores the elderly and frail to comply with the rules for just a little longer if they can. He writes,
'While children are our future, they [older people] are the custodians of the past and the foundation of our society. They faced many hardships in the post-war years, helped consolidate the welfare state, and through hard work provided the bedrock for a sound economic future. So to the older generation I say: 'keep protecting yourselves.  Your country needs you.'
I wish that every older person saw their value.  Sadly, many have absorbed ageist attitudes and fail to see their potential.  Some have such a poor view of being old that it affects their physical health and can take up to seven years off their lives.  They have gone through life not being taught the role that God intended for them, when He designed the world with its seasons, and life with its different phases. It should be taught in church.  I don't know if Dr Pemberton and the letter writer go to church,  but they know the value of older people better than many church leaders!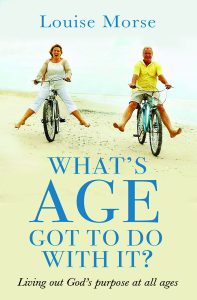 It's something described in What's Age Got To Do with It?  …