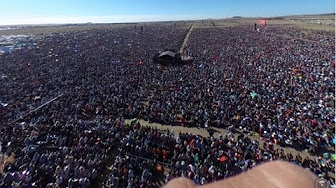 If a million people gathered anywhere for a purpose, it would be a story worth reporting.  And if those people had been called together to pray for their country – by a 70 year old evangelist, it's even more of a story.  But you won't find it in the secular press.  It's in our next Pilgrims' Magazine, but is so good I thought it's worth blogging now.  It was sent to me by Deryn van der Tang, manager of our housing in Bedford.   Angus Buchan, a seventy year old South African evangelist made history when he called for a prayer meeting of over a million people on 22nd April 2017.
He said, "We are tired of people taking the law into their own hands. We are going to call upon the Lord to bring justice, peace and hope to our beloved South Africa. He [God] says: 'if my people, who are called by my name, will humble themselves and pray…'
Over one million people gathered at a farm outside of Bloemfontein to pray for this. People of every race, from all over South Africa, bussed, drove, flew or made their way to the Alwyn Farm to pray at the two-thousand-acre field. It was an emotional time for those present as they knelt in the dirt, held hands and prayed. Angus called on the people to put their own houses in order and to confess their sins before God. The Spirit of the Lord moved amongst them as God visited His people. This was an orderly meeting with not one scrap of litter left on the field when everyone had gone home.
Deryn reported that the results were soon manifested in the Government.  'Already the Bible has been read in Parliament, there are changes in Government policy and rain has fallen in the drought stricken Cape!'
Running concurrently with this is the IFSA (Intercessors for South Africa) 'Bless the Nation 50 Days of Prayer'.  South Africa is in earnest about change in their society and it is encouraging that Government leaders such as the Chief Justice Mogoeng Mogoeng, as well as seasoned evangelists, are calling the nation to pray for restoration, to restore the years the locust has eaten.nnin
Youtube links are:   https://www.youtube.com/watch?v=5dPUpiz6A24
https://www.youtube.com/watch?v=eyr8z8MyVK4
Wouldn't it be good if a million people gathered to pray for the UK right now?  And if our Chief Justice made the same call, to pray for restoration?  Christians are instructed to pray for those in Government (1 Timothy 2: 2,3.)  Whether we gather or not, we can pray.  Let's do it!