Four years ago Ralph Ireland could only dream of living again with Maureen, his wife of 46 years. She'd had to move into a nursing home, 10 minutes drive from where he still lived in the family home in Nottingham.  He said, 'Ten minutes drive away doesn't sound like a lot, but a couple of hours visit each day is not how married life should be, is it?'
In August 2014 he went to look at Pilgrim Gardens, our retirement housing in Leicester,  and shortly afterwards started the process of buying an apartment.  It was a long wait, but the Irelands moved in in May last year, and began to live the dream.  'We are celebrating our first anniversary here,' he told Mandy Smith, Pilgrim Gardens' Manager, ' a year in which we have also celebrated our Golden Wedding! The 'dream' I had has been realised – Pilgrim Gardens is 'heaven on earth' for us.  We can be together and enjoy each other's company.  It is a quiet haven where friends and family can meet with can meet with us.  We live within a structure that offers all the practical helps we desire to have.  Each day we thank God for Pilgrim Gardens.'
This year is the 5th anniversary of the opening of Pilgrim Gardens.  It won several national awards for innovative design and environmental initiatives, and in the first year was visited by so many teams of experts  that the warden thought of charging them consultancy fees!
But more important than the certificates and awards is the contentment of the people living there. 'My number of friends has doubled since moving, ' wrote one lady, who says she is now able to reduce the anti-depressants she's ben taking for 20 years (with medical supervision).'It's great to belong to an extended Christian family,' she said, 'We don't always agree, but there's a lot of love here. Since coming here I've felt more at rest in myself, than I have ever been. So much so I'm going to be reducing the anti-depressants I've been on for twenty years, starting this weekend.'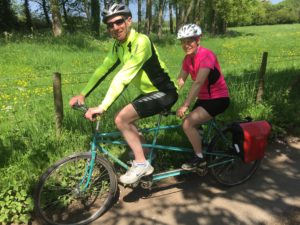 Building every new scheme like this has been a major step of faith for our executive and trustees, working, as we do, in a climate where government care funding is at the lowest it has ever been, with experts such as the Director of Adult Social Care Services saying that it is on the point of collapse.  Nine local authorities have warned that they will be unable to meet their obligations unless they receive more money.
Yet we've seen God answer prayer on so many occasions!  Right now we're fundraising for a new home in Chippenham, Wiltshire.  Recently our CEO, Stephen Hammersley and his wife Susan got out their old tandem and did a sponsored 200 mile cycle ride from their home near Luton to the new site in Chippenham.
You can still donate by going to https://mydonate.bt.com/fundraisers/tandemhammersley.     Who knows whether you, or your loved ones will one day find themselves dreaming the same dream as the Irelands!
.
Each day we thank God for pilgrim gardens.  We are content.