Phyllis Roberts from Blaenavon, Wales, has been in politics for most of her adult life.  She's been mayor of Torfaen County Borough, was chair of the Blaenavon Urban District council, was a magistrate – and was awarded a British Empire Medal in 2015 for her services to the community of Blaenavon.  Now she's running to become a councillor on Blaenavon Town Council.  She's also been the Chair of Blaenavon's Over 50s forum, and is vice president of the Blaenavon Male Voice choir and the president of the Ladies' Choir. She believes that age is just a number, when it comes to politics.  You can read her story here – http://www.southwalesargus.co.uk/news/15219066.Meet_the_oldest_election_hopeful_who_is_93_years_old/
Phyllis is one of the fast growing number of people showing that age literally, is just a number.
You can hear more about her and others like her, and what they have that is keeping them active and engaged at our Faith in Seniors conference in Leicester on May 13th.  (Including the 102 year old who wrote a book at the age of 100, to draw others to Christ.)
I'll be drawing from research that went into the writing of my new book, 'What's Age Got To Do With It?', which is due in September.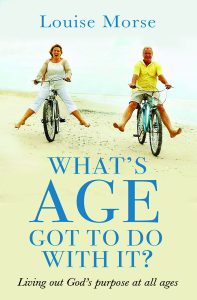 So, to find out more – book now at https://www.pilgrimsfriend.org.uk/faith-in-seniors-conference